In an EV revolution, ethanol advocates say they have the advantage
Policy funds are paving the way for electric vehicles, but the ethanol industry believes, from an environmental standpoint, ethanol is the right fit, right now.
The Build Back Better agenda has a goal of 50% of new car sales to be electric vehicles (battery electric, plug-in hybrid electric, or fuel cell electric vehicles) by 2030.
It seems like a lofty goal as electric vehicle sales made up just about 6% (800,000) of the total 13.7 million sales in 2022. But if the goal is realized, the impact on the gasoline and ethanol industry would be felt in the not too distant future.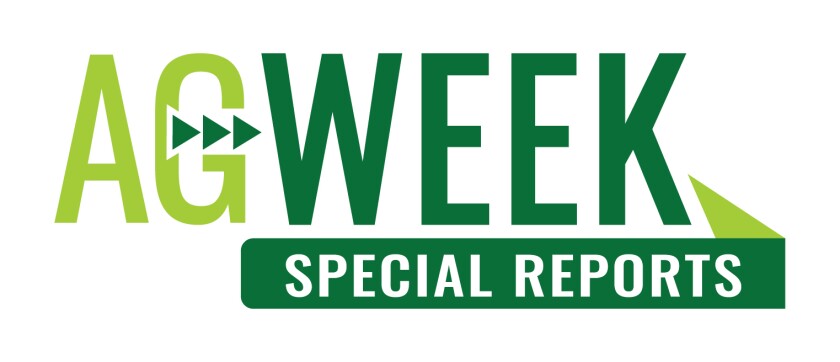 Biofuels — ethanol, biodiesel and others — have become important in both ag and energy. In the April Agweek Special Report, we look at where biofuels started and where they're going, including discussions about carbon sequestration, higher volumes of ethanol in gasoline, new processing plants, state and federal policies and more.
It stands to reason that some groups are investing time and resources not fighting the move to electric vehicles; rather they are looking at how they can continue to play an important role towards a common goal of emission reduction.
Take for instance the Minnesota Corn Growers Association, which supported University of Minnesota research that would use ethanol to power a range extender .
It takes into consideration that electric vehicles have their environmental and economic benefits but have their disadvantages when it comes to long-range trips. The United States Office of Energy Efficiency and Renewable Energy promotes that the median driving range was 250 miles for electric vehicles in 2020 . But a secondary ethanol-powered engine on board an EV can be used to charge the battery — on the move — in case charging stations are few and far between or you just don't feel like stopping.
The team at the University of Minnesota's Department of Mechanical Engineering went to work trying to determine if corn-based ethanol could offer a solution in allowing electric vehicles to travel longer distances. They worked with a BMW i3 REx engine generator, powered by E85. This engine would be under the hood of future electrical vehicles, but not connected to the wheels. It would serve as a battery charger using the power of thermochemical recuperation (TCR).
The study concluded that computer modeling showed "using ethanol blends is a viable way to increase the efficiency of spark-ignited engines. Engines running at limited operating points are an efficient way to extend the range of electric vehicles," according to Northrop's final report . More research may be coming soon in this area, according to Devin Hoffarth, director of Market Development & Industry Relations for Minnesota Corn Growers Association.
Minnesota Corn also worked with Agricultural Utilization Research Institute (AURI) to study the development of ethanol fuel cells, developing ethanol as a carrier for green hydrogen. That research, completed in 2022, showed that ethanol fuel cells on light-duty vehicles "does not appear to be a near term opportunity." But that doesn't mean it's not an option worth exploring.
Hoffarth said that AURI concluded the first round of research, and Minnesota Corn just approved a second round where they will dig deeper into the potential market use. Hoffarth said further research will continue into these realms as they are still new, like much of the EV industry.
In Hoffarth's and Ron Lamberty's opinion, moving more vehicles toward being flex fuel compatible, capable of using E85, is the fastest way to lower carbon emissions — far faster than the gradual move towards electric vehicles. ( E85 , or flex fuel, is a gasoline-ethanol blend containing 51% to 83% ethanol, depending on geography and season.)
Those marketing ethanol now and into the future say they have the tools to make change right now.
"It's reminding those who want the environment to be better, those who want to reduce carbon pollution, that the best way to do it quickly is here, right now," said Lamberty, chief marketing officer for the American Ethanol Coalition, of the use of ethanol to help power the transportation industry. The American Ethanol Coalition, is headquartered in Sioux Falls, South Dakota.
To demonstrate his beliefs, Lamberty bought a 2019 Ford Fusion Hybrid and had a flex fuel conversion kit installed. Because of the hybrid's lower fuel consumption per mile and ethanol's lower carbon output than petroleum-based fuel, his math tells him that mile-to-mile, his car puts out only a small amount more greenhouse gas emissions than a battery electric car.
Some of the best readings have shown electric vehicles in California putting out 80 grams of C02 per mile. On average, that number is closer to 170-180 grams per mile, Lamberty said. The numbers coming out of his demonstration vehicle are around 200-220 grams per mile. Meanwhile, the average passenger vehicle emits about 404 grams of CO2 per mile, according to the EPA.
That being said, as a guy who has made his living in the ethanol industry, he's not afraid to see the electric vehicle industry succeed if that's the right direction to go. What he tries to get people to recognize is that he believes ethanol can get to zero emissions before electric can.
"If you're talking zero emissions vehicles, which is what a lot of the legislation is, then really, we can probably beat electrics to zero emissions before they actually get there with the electric grid the way it is in the U.S.," Lamberty said.
He said if the rules and legislation are "non-denominational" then ethanol is the way to go with the existing infrastructure and fleet.
"If environmentalists are serious about cleaning up the environment they should rely on the right now, today, 288 million vehicles out there that still use liquid fuels as much as they're relying on the 2 million battery electric vehicles that are out there," he added.
He references a study by Energy Information Administration that estimates that 85% of vehicles on the road in 2050 will still be powered by liquid fuel. He feels it's illogical to discount the strides that could be made toward net zero emissions by utilizing ethanol — right now.
"I'm not saying it's a perfect product … but if you look at the logic and the science and the math, it just makes sense to use more of it," Lamberty said.
While a push for more EVs continues, there will remain a market for ethanol in the transportation industry in places where electrification is not yet ready or able to compete. Biodiesel is expected to fill the gaps that electrification won't reach, such as heavy-duty trucks, non-road vehicles, aviation, and shipping, according to the Advanced Biofuels Association.
Hoffarth said that's an area of focus for ethanol to invest in. One such investment is Minnesota Corn's investment with ClearFlame Engine Technologies.
"They are modifying heavy duty engines from Class 8 semi trucks to farm equipment to run on 100% renewable energy. So they are running on E-98, which is denatured ethanol," Hoffarth said. "And that shows considerable promise."
That's technology they hope to have to market by the end of 2023.
In yet another area supported in part by Minnesota Corn Research and Promotion Council, the Renewable Fuels Association converted a plug-in hybrid electric vehicle (a 2022 Ford Escape ) to run on flex fuels like E85. It's promoted as the world's first of its kind. It is said to have lower carbon intensity, along with cost, than pure electric.
Robert White is RFA's vice president for industry relations and took the lead on the concept car. The car received a conversion kit with the help of students from the University of Nebraska's Husker Motorsports Team, which took about one hour. White then drove the vehicle to Kansas, then California, where it underwent extensive testing at the University of California Riverside, at their emissions laboratory.
Results of those tests are expected to be out around Memorial Day 2023. White is very excited to get the results but knows that this is going to take time because they want extensive results that they can stand on to show the opportunities that ethanol fueled vehicles can provide.
"What we're trying to do is, the government and corporations can set emission goals, or carbon intensity goals, or carbon reduction goals, but don't tell us, don't handcuff us by telling us there is only one technology that can get is there," White said. "We are ahead of schedule in many cases of the goals set by the federal government. And to somehow restrict ethanol from playing an important role in that would be heavily short sighted, and we can prove that with this vehicle ... we can compete with a full battery electric vehicle today."
White said the benefits of this vehicle are impressive. It really has three power options. It can go over 400 miles without concern of range. It can go without charging the battery due to on-board recharging from braking and can even go with fuels other than E85 if that fuel is unavailable.
"It is not a hot rod, but that's not what most people are looking for anyway," White said.
Once all data is in, White plans to make sure this vehicle is seen far and wide. You can see it at one of the following upcoming locations in our region.
Future Events

Biofuels Academy, West Des Moines, IA, May 9-11, 2023
Fuel Ethanol Workshop, Omaha, NE, June 12-14, 2023
Minnesota Farm Fest, Morgan, MN, Aug. 1-3, 2023
Iowa Science & Sustainability Tour, Aug. 15-17, 2023
Iowa State Fair, Aug. 18, 2023