Federal funding for climate change opens up access to USDA conservation programs
Dana Ashford-Kornburger, national climate coordinator for USDA's Natural Resources Conservation Service, said money from the Inflation Reduction Act will provide more funding for EQIP, CSP and more.
More money for climate-smart agriculture practices will mean more opportunity for farmers and ranchers to qualify for U.S. Department of Agriculture programs that have had more interest than funding.
Agriculture Secretary Tom Vilsack in February announced that the Inflation Reduction Act — signed by President Joe Biden on Aug. 16, 2022 — had provided $19.5 billion over five years for climate-smart agriculture through existing conservation programs.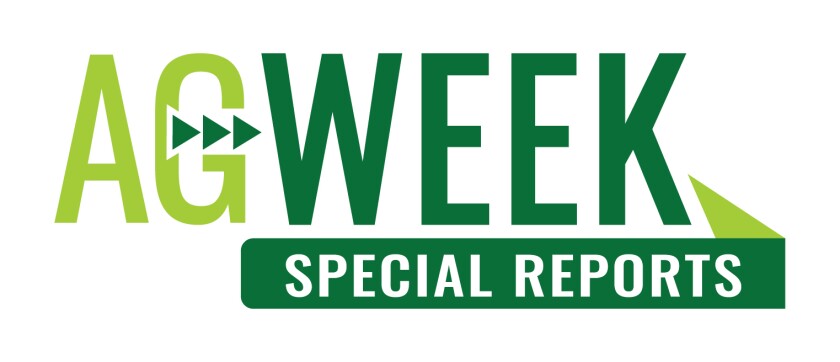 Climate plays an important role in agriculture, and changing — and sometimes more erratic — weather patterns can mean changes for agriculture. But programs addressing climate change also hold opportunity for the industry. We explore what's going on in the climate of the northern Plains, what it means for agriculture and food, and what new climate programs and projects can mean for farmers and ranchers.
Dana Ashford-Kornburger, national climate coordinator for USDA's Natural Resources Conservation Service, explains that money will be put to use in programs that have been so popular that they haven't been able to help all the farmers, ranchers and forest landowners who have been interested. Those same programs help fund practices that have been shown to mitigate climate change.
The NRCS funding includes $850 million in additional fiscal year 2023 funding for the Environmental Quality Incentives Program, Conservation Stewardship Program, Agricultural Conservation Easement Program and Regional Conservation Partnership Program, as well as an additional $8.45 billion for EQIP, $4.95 billion for RCPP, $3.25 billion for CSP, and $1.4 billion for ACEP for the next four years.
"We have unmet need in a lot of states, especially here in North Dakota," Ashford-Kornburger said, speaking Feb. 21, 2023, in Jamestown, North Dakota, at the North Dakota Farmers Union Evolution Ag Summit .
Some states in the region have only been able to fund 30 - 50% of the applications into the conservation programs, she said. Now, by prioritizing programs that use climate-smart practices — practices that already have been proved to move the needle on things like carbon or greenhouse gas emission reduction or sequestration — NRCS will be able to fund more projects with the IRA funding.
"The Inflation Reduction Act provided a once-in-a-generation investment in conservation on working lands, and we want to work with agricultural and forest landowners to invest in climate-smart practices that create value and economic opportunity for producers," Vilsack said in a statement when the funding was announced. "We know that agriculture plays a critical role in the nation's effort to address climate change, we're using this funding to bolster our existing programs, maximize climate benefits, and foster other environmental benefits across the landscape."
Ashford-Kornburger said many of the practices that qualify as climate-smart practices — including things like cover cropping, conservation tillage, wetland restoration, prescribed grazing, nutrient management and tree planting — have "co-benefits," meaning producers might be looking for a solution for one thing but use a practice that also has climate benefits. A farmer could be seeking help with water quality and end up using cover crops, which also have climate benefits. A rancher might want to increase forage production and use prescribed grazing.
"A farmer might not come through the door saying, 'I want a climate-smart plan.' They may come to the office and say, 'I need help with water quality, soil erosion' — those things that our field offices are already familiar with," she explained. "So, just making sure they have that awareness that it's not just climate but it already fits within a lot of what we're already doing, but we have the ability to quantify those benefits and really tell the story of the great work that our farmers, ranchers and forest landowners are already doing."
The IRA also provided targeted funding for NRCS work on Measurement, Monitoring, Reporting and Verification, to ensure that the climate-smart practices are doing what they are supposed to be doing.
Ashford-Kornburger said county service centers — which often house NRCS as well as Farm Service Agency and other county-level USDA agencies — are always a good place to start to learn about USDA programs. Soil and water conservation districts, colleges and universities and organizations that partner with USDA — including those involved in the Partnerships for Climate-Smart Commodities — also have ideas about utilizing climate-smart practices, she said.