Biofuels timeline reveals 'incredible accomplishment'
The largest growth in the ethanol industry came between 2005 and 2013
WASHINGTON — The biofuels industry has made incredible strides since Michael McAdams joined the sector in 1978.
McAdams, president of the Advanced Biofuels Association (ABFA), manages the voice in the U.S. capital for the advanced biofuels industry.
In 1999, he was working as a speechwriter and policy advisor for the British Petroleum (BP) CEO Lord John Browne. BP had just merged with Amoco in a deal valued at $48.2 billion, which at that time was billed as the largest oil industry merger ever, and was also the largest takeover of an American company by a foreign company.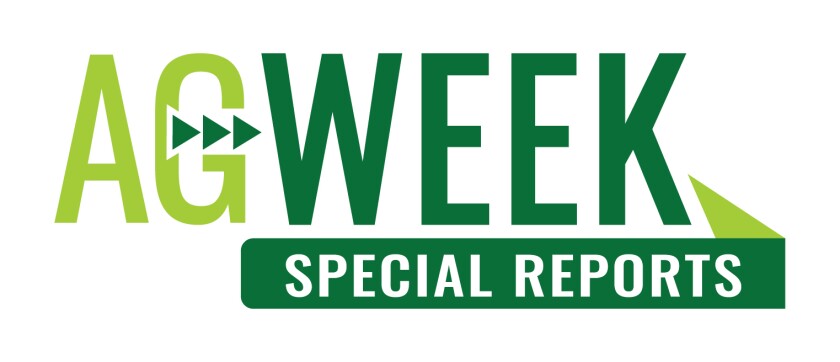 Biofuels — ethanol, biodiesel and others — have become important in both ag and energy. In the April Agweek Special Report, we look at where biofuels started and where they're going, including discussions about carbon sequestration, higher volumes of ethanol in gasoline, new processing plants, state and federal policies and more.
In an interview with Agweek, McAdams recalled a lunch he had that year with Bob Dineen, who two years later would become the president and CEO of the Renewable Fuels Association (RFA). McAdams and Dineen met two decades earlier, sorting letters in the mailroom of the U.S. House of Representatives.
"And I said, Bob, I'm going to be the first guy in the oil industry to support an RFS program," said McAdams. "And we were off to the races."
America's advancement in the biofuel production got underway when President Jimmy Carter created federal incentives for ethanol production.
Carter signed energy legislation that created the U.S. Department of Energy, provided incentives for renewables and coal, deregulated oil and natural gas prices and banned new power plants from using gas or oil.
"He was the first president to actually put a tax credit in place in 1978," said McAdams. "Between 1978 and 2000, we were at about 2 billion gallons of ethanol in the United States."
At the time, McAdams was working as a staff member for a member on the Energy and Commerce Committee.
"Let's just say the oil industry wasn't excited about ethanol," said McAdams of the late 70s.
He said from 1981-1985 there were attempts to do a rewrite on the Clean Air Act (CAA) that did not work.
It wasn't until 1990 that the next demarcation point took place, said McAdams, when longtime member of the House Energy and Commerce Committee and then-chairman of the committee, John Dingell, and the minority came together to amend the CAA.
"Over 43 consecutive days and nights, the committee wrote the 1990 Clean Air Act," McAdams said. "I know that because I stood in the hall for 43 straight days and nights, and I'll never forget it."
He remembers members from each sector impacted by the CAA coming via corporate jets and into the rotunda of the Rayburn Building, to negotiate with top members on the committee who were trying to write the statute.
Through those efforts, the Clean Air Act Amendments of 1990 came to be, and with that came required reformulated gasoline (RFG), designed to reduce air toxins and emissions of volatile organic compounds.
"The RFG program was clean gasoline for two types of cities," McAdams said.
RFG was required to be used in nine major metropolitan areas of the country with the worst ozone air pollution. In addition, the EPA expanded the RFG Program — which began in 1995 — at the request of other state governors to allow areas with a history of ozone problems to voluntarily become part of the program.
But unfortunately for the ethanol industry, McAdams said the statute was written for an oxygenate, and not corn ethanol. There were four or five oxygenates that could comply with the regulation when it was written, he said.
"The oxygenate that won the fight, in terms of cost, was methyl tertiary-butyl ether (MTBE)," McAdams said. "And a lot of people in the ethanol industry really wanted to take down MTBE."
According to the EPA, a number of studies detected MTBE in ground water throughout the country, and in some instances contaminated drinking water.
"(The ethanol industry) targeted this and it became a national issue," said McAdams. "And that's what led to the conversation around creating an RFS instead of having just the RFP program."
According to the definition from the U.S. Department of Energy, the Renewable Fuel Standard (RFS) is a federal program that requires transportation fuel sold in the country to contain a minimum volume of renewable fuels.
"The RFS granted 12 and a half billion gallons of renewable fuels that could come from the various sectors, and at that time, it was corn ethanol and soybean biodiesel," said McAdams.
The RFS originated with the Energy Policy Act of 2005 and was expanded and extended by the Energy Independence and Security Act of 2007 (EISA).
The RFS requires renewable fuel to be blended into transportation fuel in increasing amounts each year, and each renewable fuel category in the RFS program must emit lower levels of greenhouse gases (GHGs) relative to the petroleum fuel it replaces.
"Two years later, we passed RFS 2, and we raised the target from 12 and a half to 15 billion," McAdams said. "And we exceeded 13 billion by 2012 — so massive growth in the ethanol industry between 2005 and 2013."
McAdams said that when the RFS was expanded in 2007, it was really about the "innovative technologies of the future," and a "good deal" for the corn-based ethanol sector. In between the RFS expansion, he created the Advanced Biofuels Association in 2006.
"Today, we sit at about 17 and a half billion gallons of boilerplate capacity of ethanol, and stand somewhere around four and a half billion gallons of biodiesel and renewable diesel," McAdams said. "And by 2025, we should be somewhere close to 8 billion gallons of biodiesel and renewable diesel, which is eight times what the original statute called for. That is an incredible accomplishment."
Renewable fuels fall under the following categories:
Conventional biofuel: Any fuel derived from starch feedstocks (corn and grain sorghum). Conventional biofuels produced in plants built after 2007 must demonstrate a 20% reduction in life cycle GHG emissions.
Advanced Biofuel: Any fuel derived from cellulosic or advanced feedstocks. This may include sugarcane or sugar beet-based fuels; biodiesel made from vegetable oil or waste grease; renewable diesel co-processed with petroleum; and other biofuels that may exist in the future.
Nested within advanced biofuels are two sub-categories: cellulosic biofuel and biomass-based diesel. Both biomass-based diesel and cellulosic biofuel that exceed volumes in their respective categories may be used to meet this category. Fuels in this category must demonstrate a life cycle GHG emissions reduction of 50%.
Biomass-Based Diesel: A diesel fuel substitute made from renewable feedstocks, including biodiesel and non-ester renewable diesel. Fuels in this category must demonstrate a life cycle GHG emissions reduction of 50%.
Cellulosic Biofuel: Any fuel derived from cellulose, hemicellulose, or lignin — nonfood-based renewable feedstocks. Fuels in this category must demonstrate a life cycle GHG emissions reduction of at least 60%.